987-2 Carnewal GT Exhaust reviews and testimonials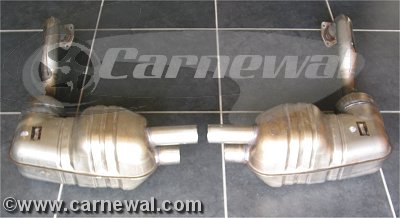 Reported by T.C.; July 2011 :

Prachtig werk dat je uitgevoerd heb op mijn Boxster. Heel mooi geluid en zeker in de hoge toeren. Alles was perfekt en zeker jullie guest ruimte, zoiets krijgen we niet bij Porsche zelf. Heel bedankt daarvoor en tot binnenkort.
---
Posted by edge on Boxa.net, July 2011 :

Popped over to Belgium for a visit to Carnewal and had the GT exhaust fitted to my Gen2 S . Gert and his wife made sure i was comfortable in the guest house with coffee and nibbles while Gert carried out the work, i opted for exchange pre-modified boxes to be fitted slashing 2.5 hours of the job.
First impressions are very good , gonna put a few miles on her then do a bit of a write up but so far i am impressed.
---
Posted by a CaymanR driver in Sweden, May 2013:

After a week with the new GT-Exhaust I got to say that I love it!

There is no drone any longer, which was one of the reasons I switch the exhaust. And the sound is amazing, it's getting better and better every day I drive the car. I love the fact that I don't need to struggle with a button all the time to switch the exhaust on.
Next time I will definitely send my exhaust down to you right away.
Thank you for an excellent work!
---
Posted by a Kiki, Lyon, France, June 2013:

Et voila , je suis fan ..... Juste ce qu'il faut et en vrai ça rend encore mieux , ça pétarade de temps en temps en décélérant...

Gert m'a même dit que ça allait donner encore mieux dans quelques temps.

Ce qui est également top c'est en mode (rythme de croisière) ça ne fait pas plus de bruit qu'avant et aucune résonance dans l'habitacle.
---
Posted by a Anthony in Geneve, Switzerland, July 2013 :

J'ai installé le GT sur mon 987 S hier, j'en suis aussi vraiment content. Ca correspond exactement à ce que je cherchais, le bruit est un peu plus fort mais agréable et surtout plus présent en bas des tours (c'est ce qui manquait à l'origine je trouve). En cruising, sur autoroute, on peut aussi rouler en ayant l'impression de n'avoir rien changé, ce qui est parfait mais comme dit morfyne, dans un tunnel, à fonds, on se rends compte de la différence! c'est excellent.

Le +, c'est aussi qu'il s'agit un échappement Porsche à la base donc pas de souci visuel déjà lors d'un contrôle. De toute manière au niveau du bruit, il n'y a pas lieu de se taper un contrôle, ca passe largement. C'est un peu plus fort seulement, juste plus agréable.
Quant au CT, pas de problème, il n'y a aucun cata dans la marmite.

Pour ma part, j'ai acheté un GT sans envoyer mon original. J'ai du coup les 2, pour une éventuelle revente du véhicule.

Que du bon donc...

---
Posted by Hallonz on Planet9, Nov 2013 :

I am fortunate enough to be able to go out to my garage and look at, sit in and then (of course) drive a Gen 2 CS with a Carnewal GT exhaust.
It sounds bloody awesome.
The reason they don't remove any secondary cats is because there aren't any in the Gen 2.
A common misconception in this forum and even from the "specialists".
Bottom line - it doesn't drone at all and when you step on it you, and the people you pass, will definately know about it! Carnewal GT is popular because it keeps the true "Porsche sound", it doesn't alter the note it only enhances it.
That is my opinion at least.
And I have had other brand exhausts on my old Porsche, it became louder yes but lost some of that true sound/note in exchange of drone.
---
Reported by Phil in in the UK, March 2014:

Just a quick note to say thank you for your service and hospitality yesterday. My new GT exhaust sounds fantastic! There's really very little difference at motorway cruising speeds, but when I push the throttle the difference is amazing! It's exactly what I was hoping for. No droning or resonance and loads of unmistakable Porsche flat 6 howl and bark when pressing on.
---
Posted by Nylonz on Boxa.net, April 2014 :

Had our 987.2s done a few weeks ago & am over the moon with it.
Sounds awesome & is just the right tone for the Boxster.
On start up it burgles away then softens down pretty much to standard on tickover.
Can cruise around town in comfort mode (PDK) & you wouldn't tell any difference from stock but Kickdown & there's a lovely raspy note.
Hit the Sport Button (or Sport Plus if mad enough) & it roarts into life - As good as if not better then PSE.
No droning whatsoever at any revs.
IMHO best value mod anyone can make to a Boxster!..
---
Reported by Paul Dale, in the UK, June 2014 :

I've had the Carnewal GT from Cayman R mufflers on my car for a few weeks now, and I'm extremely pleased with it.
The sound is throaty and burbly during idle and revs when stationary. When pulling away the sound is similar until the revs go above 3000 at which point the sound becomes a lovely Porsche style howl. It sounds amazing and is still putting a smile on my face.
When driving normally on a light throttle it is only slightly louder than standard, and it certainly not intrusive or boomy.
The service from Gert was amazing, and I'd have no hesitation in recommending him or his products to anyone.

---
Posted on PistonHeads by Paul/UK, January 2015 :

+ another for Gert Carnewal.
Just had his 987gt fitted to my 987.2 3.4s pdk.
Pussycat up to 3500rpm, which is what you need for civilised mway cruising with no resonance.
3500 upwards it is awesome - much like a GT3. Even the guys at Autofarm, who fitted it, were impressed.
Not expensive either. Gert delivered me the exhaust, ready to fit, for circa 1100 euros, with a 500 refund when you send your exhaust back to him. He then modifies that and sells on. He removes the rear cats*, works some other magic, bingo. Guarantees no problems with mot emissions also. Declared it to my insurers. No problem, no extra premium.
IMHO not worth paying akrapovic etc prices unless you seriously need another 5bhp - and do you? Really?

*Ed: On the 987-2 exhausts there are no cat elements inside the exhausts.
---
Posted on PCGB by David/UK, August 2017 :

Drove from leafy Surrey to Carnewal.
An easy drive of two and a quarter hours from Calais to Gert's immaculate workshop where he did the exhaust swap in an hour while I sat and enjoyed his wife's coffee and nibbles.
I had researched his service on the net where there are lots of reviews so I went for it.
I couldn't be more pleased!
The sound is much more 'sporty' but not intrusive at all and no different cruising on a motorway at 84mph (or 69 in the UK!).
I guess I am fooling myself but I feel pick-up at 2,000 / 3,000 revs is smoother. However, I didn't do this for performance just to make it sound better. For around £500 you cannot beat it: that is 25% of what the cheapest aftermarket system will cost you.
Go and have a nice drive in Belgium and I recommend an overnight in Bruges on the way back.
You will not be disappointed.
---