987-1 Carnewal GT Exhaust reviews and testimonials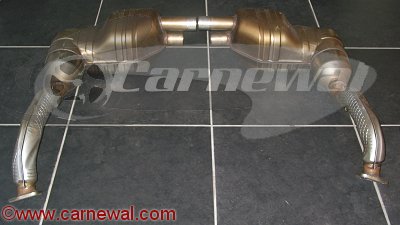 Posted by ABCararra :
Just thought I would let you know about a mod I have just had done.
I have fitted a GT Muffler from Carnewal. Basically it is a reworked
original Porsche catback section. I had similar RSR mufflers fitted to my 993
and they sounded bloody good, these though sound even better.
Louder than Porsche sports exhaust but with a lovely deep tone, no boominess
at speed. There is now a lovely burble on the over run or when down shifting
quickly.
I had tried a Tubi system but this beats it hands down, none of that high pitched Italian noise, just proper Porsche sound as it should have been from the start. My gut feel is that the car car seems to pick up a little quicker too.
I have no dyno figures expect the driving seat dyno!!
I have recorded a before and after clip which I will post as soon a possible.

I found Gert at Carnewal really helpful and I received the muffler in really quick time. Once I had he new mufflers fitted I just sent the old ones back to him. That is the cheapest way to get a great sounding exhaust.
---
Posted by Chris B. :

Being a bit stupid I didn't read this thread first - but just got my car back after having the GT conversion done on my 987 2.7. It sounds great.

I decided to send my exhaust over to Gert at Carnewal (who couldn't be more helpful). Cost roughly £70 for next day UPS to him, he takes 24 hours to do the conversion and the cost of return shipping is included in his cost (this is next day also). So for £370 and 4 days my exhaust is back on the car. Unfortunately the bolts had to be cut off my exhaust to remove the back section from the car because they were so corroded - but another hours labour and some new bolts and gaskets isnt too bad.

Had the work done by JMH Automotive in Holmes Chapel (who are also fab) - and a 4 year service and brake fluid change while they were waiting for the exhaust to come back - so time well spent.

Now sounds nice and mean at tick over with a fab howl past 3500. No droning and doesn't sound like a max power corsa - so all good. Oh and I kept the original tail pipe so it looks nice and standard as well.
---
Posted by Lurker :

I got back from my trip to Belgium last night so I thought I'd report on here for anyone thinking of taking the plunge with the Carnewal GT muffler.

I was expecting to just turn up at Gert's place, have the part fitted, stay at his guest house and then leave in the morning and drive to Bruges. What I actually had was a very nice weekend away from beginning to the end.

Gert and his wife are lovely people and Gert has been lucky enough to combine his passion for Porsche with a successful business. In his workshop he has a mint condition ultra-low mileage black 993 4S which I couldn't stop staring at. What a beautiful car.

In the evening Gert dropped us off at a local restaurant and the owner had translated the menus into English especially for us. The food & wine was fantastic. Gert also picked us up later - nice touches, and not what you expect when you take your car in to have some work done! Afterwards he invited us for a leffe beer or 3, and 8 hours sleep and half a liver later in the morning we were on our way to Knokke then Bruges.

Now on to the exhaust.... I am still getting used to it, and as Bruges is not actually that far from London I've not actually had a huge amount of time driving with it, but my first few days with it are only positive.

You don't get droning at 75/80MPH on the motorway when cruising - it's not THAT loud an exhaust. I also can't imagine failing too many noise level tests, but admittedly the jury is out on that as I'm not familiar with levels at tracks etc. I'm sure berty987 will be along with his SPL meter soon. The main noise on the motorway from the Boxster is tyre noise for me (new tyres fitted recently as well), and this is still the case with this exhaust. Gert knows his stuff, and the exhaust tweak wasn't the first he'd tried - he's experimented a lot to get it right. He knows that a Porsche owner is generally someone who doesn't want a droney boy-racer drainpipe on the back of their car....

The exhaust obviously allows it to be more free-flowing. Gert explained that the ECU on my car should adjust over time. Maybe I'm jumping the gun, but I suppose it's possible that the MPG could rise a tiny bit now? Then again, maybe not as the sound is going to be more addictive!

The first thing you notice is that the tone is a bit deeper, more gruff. Other than that, it just gives you more of the distinctive sound of the boxer 6 engine that was there anyway - good! When driving slowly and accelerating smoothly, you don't hear much more at all. That's the way I personally like it. It now takes a little less throttle to introduce the sound we know and love. It's moved from pinot noir to a more full bodied cabernet.

If you're the sort of person who would drive around with the window slightly open to hear more exhaust noise (as I do!), then I think this will satisfy you. I didn't feel like a boy-racer with it installed, it simply sounds more as you'd expect a Porsche to sound. I've yet to check how the exhaust sounds externally other than on tick-over, though I did hear Gert driving it around the nearby roads and from a distance it sounded more "race car" than before.

If anyone wants to hear how it sounds, feel free to PM me. I'm in East London.
---

Posted by ChrisP. :

It's been a few weeks now and I have to say that it is still a pleasure to hear that deep rumbling every time I get into the car. It's just right – not too much to draw too much attention but also controlled so that it doesn't compromise the ride. I couldn't recommend it more to anyone that is thinking of changing exhaust.
---
Posted by berty :

Finally got to hear one of these Carnewal exhausts at the weekend and do a back to back comparison with the PSE I have on my car. Both cars tested were 2005 model year 987S models (3.2), so its the best comparison you can get. Bear in mind also that I have the overide mod , so the PSE was tested without the 20-40 mph cut out found on other PSE systems , and remained open or "loud" throughout the test. Both cars were driven is succession by each driver over the same 10 mile route.

Initial start up :

The Carnewal exhaust gives a nice sharp crackle at start up , and then settles down to a deep burble
The PSE exhaust doesn't seem to allow the crackles and pops to exit the tailpipe but seems just a little deeper in note at tickover.
With the PSE valves closed , the exhaust is quieter than the standard silencers but there is still a nice deep quiet but reserved tone
The standard exhaust sounds more turbine like than sporty.

Revving :
The Carnewal is sharp and crisp , when revved the exhaust allows all the crackles and pops to be heard but the exhaust never sounds harsh even at high revs.
The PSE damps the pops and crackles of the ovverun more than the carnewal , but they can still be heard. At higher revs the exhaust is a harder sound, more race car like.
With the PSE valves closed the engine sound seems louder than the exhuast , the exhuast allows very little noise to exit the car.
The standard exhaust has a tuned note , louder than the PSE with closed valves.

Driving :
Under load conditions (climbing a hill in 3rd) between 2,500 and 3,500 rpm the carnewal gives a nice deep note, not overbearing inside the cabin , certainly not boomy like a Remus. The engine sounds a bigger capacity than a 3.2 , much closer to a 3.4 or 3.6 996. Definitely a true "P-car" sound.
The deepness of the exhuast note seems to be apparent over a wide reve range from 2,000 to 3,500 rpm.

The PSE gives a slightly more resonant note , again not boomy , but doesn't seem to keep the deepness of the tone as the revs move from the sweet spot at 3000 rpm . On a motorway I prefer to switch off the PSE as 70 mph is the resonant point.

The PSE in inactive mode allows the engine note to be heard but is much more subdued. The standard exhaust allows the driver to hear the engine but only when at the sweet spot , at other times there is a tuned exhaust note but never deep.

Through the gears :
The carnewal scores points here, the exhaust is so well made and fettled that you could be mistaken for a 3.4 or 3.6 996 from the sound. The exhaust gives a clear sharp note through the rev range and a nice crackle on the overun. At higher rpms the engine and exhaust give a cohesive symphony though equally matched. The exhaust is louder when the engine is being worked , but returns to a quiet and less noticeable humm when being driven more sedately.

The PSE is a real Jeckyl and Hyde item. It gives a nice deep note but does seem to be less characteristic of a Porsche flat six sound initially. Certainly better than the standard exhaust. At higher rpms the exhaust allows vitrually all the engine sound to be heard, it sounds more like a race or rally car and allows the full frenzy of the engine to be heard. Drive at high rpm's in a PSE equipped car and everyone will hear you coming.
With the PSE switched off the engine note only really becomes apparent at high rpms , you need to work the engine hard to get any real effect from the exhaust.
The standard exhaust gives better feedback to the driver than the PSE when switched off, the exhaust works in harmony with the engine note but never really stirs the soul.

Overall Conclusion:
For the money we both agreed that the carnewal gives excellent results.
The sound is definitely more "porsche flat six" than the PSE or the other aftermarket systems I've heard.
It's possibly not as "race car" sounding at higher revs as the PSE and obviously isn't switchable but it certainly gives a good overall improvement. Both systems can be lived with on an everyday basis and are never boomy or tiresome at motorway speeds (with PSE deactive). Most people that buy the PSE leave it switched on, the fact it's quieter than the standard exhaust when deactive is probably the main reason why. The Carnewal seems to give a much more consistent sound improvment throughout the rev range than the PSE , which gives maximum effect at tickover and high rpms. Unless you can be bothered with the hassle of finding and fitting a full PSE, the Carnewal is by far the best improvment on standard I've heard to date. Not as extreme as other exhausts , but a lot cheaper, still giving good improvements , and accepatable for everyday use.

Many thanks to Robert for taking the time to bring his car over for the comparison.
---

Posted by CJFP on pcgb :

Just to let you all know that a few weekends ago I spent a great couple of days in Belgium with Gert of Carnewal - stayed in his lovely guest house, ate wonderful food and drank some nice beer. Oh, and I also had his GT Exhaust fitted to my Cayman, along with the Sport Exhaust Tip (had no intention of getting this extra bit, but it looked so good when it was in my hands!). The exhaust is great and I have saved so much money. The sound is a perfect rumble both at idle and when accelerating, and there is no deafening boom in the cockpit - I couldn't be happier. If anyone is thinking of getting this done then I would recommend this without hesitation - www.carnewal.com. If anyone wants any further info then please do not hesitate to contact me - alternatively, email Gert @ Carnewal and he will (usually) reply within a couple of hours.
---
Reported by M.J. July 2010

Hi Gert,
Had the exhaust fitted this morning & been for a spin & all I can say is WOW!!!!!!!!!!
It sounds FANTASTIC!!!!!!!!!!
The videos don't do it justice, it sounds even better in the flesh!!!!!
This is how all Porsches should sound from the factory, it's transformed the car.
To say I'm pleased is an understatement!!!

I can't thank you enough Gert as the service, prompt replies to e-mails, quick delivery & the quality of the exhaust has all been first class!

I'll do my best to recommend you to everyone I know & I'll write you a testomonial when I get a minute, I'll probably stick a video up on YouTube once we get some more nice weather (back to cold & wet here at the moment!)
---
Reported by S.F. Aug 2010

I have now covered about 300 miles since fitting and can honestly say the
GT Muffler has far exceeded my expectations - it's the best £400 I have ever spent.
My Boxster now sounds like a "proper" Porsche!!
I have compared it against a friend's PSE and the Carnewal mufflers are definately more cultured. The throttle response is also more instant.

The only downside to all this is the extra petrol I use to hear that fantastic burble!!
---
Posted by Caymanster on PCGB May 2011

Ok, just back from a quick trip across to Gert Carnewal.

Firstly, what a thoroughly great service. Arrived at 11am, gave the car over to Gert, he showed us to his guest house and told us (Mrs Caymanster with me) to make ourselves at home. 2 hours and a quick snooze on the leather couch, I worked a night shift last night, and the car was done.

First impressions were that the look of the RS60 tailpipes is much better than the gen 1 S pipe. Gert warned me that the DME would take a while to adjust to the better airflow so the car wouldn't sound it's best straight away. Still sounded way better when I first turned the key.

After settling up (very reasonable for the excellent work and service, a bargain in fact) we said our goodbyes and hit the road again. Every bit of open road or a gap in the traffic was met with a quick blast of the, increasingly, loud pedal and accompanied by a big grin from me. Gert was spot on when he said it would take 60km or so for the full effect to kick in. The car steadily grew in raspiness and volume and then settled at a satisfying yet not too antisocial level. No drone at steady, ahem, motorway speeds either.

Suffice to say that our journey back from Gert's to the Eurotunnel was a good 15 minutes quicker than the journey there this morning.

Sat nav took us via the Dartford tunnel on the way home because of heavy traffic on the southern and western sections of the M25. You can guess the rest. The sound on full chat in the tunnel gave me goose bumps and drew a thumbs up from a couple of van drivers.

That's it really. Thoroughly enjoyed the day. Gert is a top man and his work seems exceptional. May even go back for the 200 cel cats at a later date although I don't want to go too loud.

Can't recommend Gert highly enough.
---
Posted by Miatman on Club911 June 2011
Petite experience du week end, direction la Belgique...

Pour mémoire, j'ai eu une 993 dont j'avais adoré les vocalises apres la modif RSR effectuée par Gert Carnewal.

J'ai toujours été tres decu des echappements de 2ème monte, quels qu'ils soient. Ma 1ère experience il y a 15 ans sur ma GTI avec un Sebring s'était soldée par un remontage de l'origine au bout d'un mois et revente du pot inox... Sur le Cayman, un pot Strosek avait été monté avant mon achat. Je suis repassé à l'origine car il était trop bruyant pour mes oreilles, et que la sonorité n'était pas assez "Porsche" mais plutot italienne... De plus, il resonnait un peu à tres bas régime.

Par contre, autant l'origine sur mes ex Boxster 986 2.7 et sur la 993 etait plutot sympa, autant sur le Cayman (comme sur mon ex 986 S), le son est inexistant et indigne d'une sportive... Meme ma Saab Turbo X fait mieux chanter son 6 cylindres!

Tres satisfait de mon experience avec Carnewal sur la 993, j'ai donc pris RDV en Belgique pour Samedi, parti à 8h de Paris, retour à 15h, et attente sur place dans la fameuse Guest House ;-)

Le résultat est exactement ce que j'en attendais : un vrai son Porsche à tous les régimes, aucune résonnance, un bruit qui "gratte" bien l'oreille quand on accélère, mais qui n'est jamais intrusif. Juste ce qu'il devrait etre d'origine si Porsche ne cherchait pas à refourguer son option PSE que je trouve du coup d'autant plus inutile et surtout demesurement chere...

Bref, pour 390 euros + un peu d'essence et de péage, c'est un vrai bonheur dont aucun Boxster ou Cayman sans PSE ne devrait se passer...

Bon, j'ai en plus craqué pour une sortie de Cayman R noire... Je sais, je suis censé la vendre cette voiture mais bon, on se refait pas...;-)
---
Posted by J_D on Planet 9, June 2011

I've just got back from Carnewal, in Belgium, had their GT exhaust fitted.

Just amazing, I was a bit apprehensive at first, as the YouTube clips were a bit, well, not the sound I was looking for. But it sounds nothing like any of the clips, it seems to have a very strong hint of Porsche flat 6 in lower revs, more like 996/7 sound, then up in the higher revs, above 4,000, it screams, more like a race car, very loud too when gunning it.

Cannot ask for anything more from it really, would recommend it to anyone thinking about an exhaust, especially if you are in UK, its a very simple drive down, the GPS led me right there. Brilliant. He's a great host too, both Gert and his wife were very welcoming, I ended up spending about an hour there, and all of it at his guest house, with the lovely grounds, in the sun!

Couldn't have chosen a better day either with the weather.
---
Posted by Jean Michel from France, September 2011

Montage effectué chez Almeras, nickel, très satisfait, tres beau son, aucune résonnance.
Le son est encore mieux que sur la video de carnewal, les techniciens d'Almeras etaient impressionnés.

Et pour carnewal rien à dire, paiment le soir , envoie le lendemain matin par fedex le vendredi, à la maison le mercredi matin
---
Posted by Graeme C. on Piston Heads, October 2011

Got back from Gert Carnewal on saturday night, was going to post up while I was there in his guest house but too tired after a 750 mile drive!

All I can say is well pleased and recommend anybody to get it. The exhaust was louder than I expected at first but its not a bad noise. Sounds a bit old school (like a TVR?) like a powerful car should.
There is no resonance and its not boy racer at all. If you drive the car softly you will hardly notice the difference (well apart from start up and low gear) but it comes into its own when you are driving harder. And what a result. I thought the car was good before but this totally transforms it, in a good way.

Driving back through France we were lucky to get little traffic as we tried to beat the clock back to Calais and could easy maintain 100-120mph on the fairly straight and well maintained roads. In 6th gear the car already pulled well from 100mph+ (coming into max torque) but with the GT exhaust there is a new feeling of absolute power underneath your right foot. Can't describe it, just drive part thottle up to 120 and then push the pedal harder up to about 150-160, it gets there in no time at all. You just feel like the car has more and more and with the roar you get coming through 5000rpm it is just sensational.

It was a good road trip we had doing 1500 miles all in and as folk here have said Gert is a top man. In the first minute of talking with him you realise he is a sound bloke and definately a car guy. He is lucky enough to be doing something he loves and has a wonderful house in a really scenic location. I have to admit some envy there Gert!

Only grumble was the traffic on the M1 heading there (Friday afternoon standstill) and all the roadworks & SPECS camera's M25 and M1. Oh and the ridiculous amount of speed traps on the M6 around Kendal on friday morning.
Was so glad of the M6 toll road around Birmingham, especially with all the traffic nearby. It was empty and with its 4 lanes, wides angled bends it felt like an autobahn.

Oh and my favourite part was beating my previous land speed record (160 bike, 150 car) by getting 173. These were all on private roads or the autobahn of course.

Loving the look of the car with the black Cayman R tips, so much better than the brushed metal look of the S tips that were not easy to clean. Will post some pics up soon.

If you are thinking about doing it, just do it and I'd recommend making the journey as Gert knows exactly what he is doing and for me it was just so much a better experience.
---

Posted by Tivo on Piston Heads, January 2012

For anybody looking for a sports exhaust for their Cayman this year I can give you a firm recommendation for the GT Exhaust from Gert at Carnewal in Belgium.
The standard sound was very pleasing but a little muted. Something that sounds so good needs to be given some volume. I didnt want anything shouty loud, but something special sounding under load & acceleration, with no drone at motorway speeds.
Gert's exhaust does all of this. In addition you get a fantastic bark on start up and also some faint popping on the over-run.
This has been well worth the money, especially with the core exchange deal and great customer service. I have also done the Planet 9 forum "de-snork" mod to open the airbox and this combined with the GT Exhaust has really made a fantastic difference and the car feels much more special.

Hammering along the Yorkshire Dales back roads with the windows down, induction roar & exhaust noise bouncing off the dry stone walls has genuinely added an extra dimension to driving the car. To me the noise is akin to a junior GT3 flat six howl and I'll now find the wait for the genuine article much more pleasing!!
FYI my Cayman is a 2008 2.7, easily the best handling car I've had the pleasure of owning so far.
Happy motoring in 2012 all....!
---
Posted by cgardnerma on Planet 9, January 2012
I recently installed the Carnewal solution myself. I haven't had a chance to make some sound recordings (I will), but I think it is just awesome. I don't want to sound like a knucklehead in my neighborhood either, and it is not even close to being a problem. It burbles and growls beautifully when just putting around and has a nice tasteful howl when you get on it. It also does not drone at all on the highway. You can hear the exhaust now when cruising at 70, but the tire noise is still much louder. It is a really, really great solution -- especially for the short money compared to a full new system. Colin Cantrell was terrific to deal with as well.

---
Posted by on Planet 9, February 2012

CARNEWAL GT

I'd always wished that my CS had a louder and more aggressive exhaust; however, I had hesitated pulling the trigger on anything due to what I've considered excessive drone for highway cruising (Remus, SpeedArt sound version, Borla). I got a Carnewal GT exhaust from a member here who traded his Gen 1 CS for a Gen 2 PDK while his exhaust was at the US approved Carnewal shop being modified. I've had it on the car for 2 weeks now and could not be more pleased with this mod. Fits perfectly since it's all stock, and I have to thank Woofpack and Gamecock for assisting with the install. Also thanks to GatorBites's exhaust removal article.

When we first started the car after the install, you could immediately tell there was a difference. Louder and more throaty with the occasional spit and growl. When I first drove the car, my initial impression was that it was not loud enough; however, as I put more miles on the car I realized it was just right. The mechanical whirring that I heard before when driving with the windows up is now covered with exhaust note, and the radio has to be a few clicks louder, but comfortable conversation is no problem. Sounds great above 4,500 rpm and on the overrun!!

The stock exhaust will drone a little bit under the right conditions, and so will the modified version, but I'm happy to say that this is VERY minimal. I drove on the highway for about 100 miles early on Saturday and had the chance to experiment at various speeds and throttle inputs. With the cruise set on 60 in 6th gear and going up a slight incline, the sound is a bit louder than stock, but not boomy or resonant at all. Speaking of Saturday morning: I met my neighbor this evening while we were collecting our mail. We had a brief conversation, and as I turned to leave he said, "I heard you take the Porsche out of the garage Saturday. That's funny, I don't remember hearing it before."
---
Posted by Mark on PCGB, March 2012 :

Shame i couldn't get the photobucket links to work so i could listen to the soundclips of the exhaust sound.
Never the less after extensive research i decided to contact Gert & have his Carnewal GT exhaust shipped over from Belgium.
I found Gert to be a refreshing & very fair guy to deal with.
He's always on hand to speak about any queries via phone & answers his emails almost immediately!!
Gert/Carnewal overall are definitely Porsche people with extensive knowledge.
The company is run with slick efficiency.

A friend of mine has his own sideline repair business & so i decided that we'd do the job ourselves.
In preparation to fitting i ordered new full set of exhaust clamping rings. Some of the existing ones were visibly cracked.
So long as you have the toolage, the job in itself is pretty straight forward.
We had the complete silencer sections changed over in just over two hours
However, if you can......an even better solution would be to take a trip over to Gerts place. If the six bolts connecting the silencer sections to the manifolds are corroded (mine weren't but they normally are) they can be an absolute pig to remove & can put expensive hours onto the job! Gert has the experience & available stocks so that should problems arise he can sort the job there & then...no messing. His price for purchase+fitting is great value.

As for the sound of the 'GT' exhaust....all i can say is GO FOR IT. You will certainly not be disappointed & you'll save a packet over the purchase price of the PSE ;-)
---
Posted by Jerome on club911.net April 2012 :

Bon ça y est, j'ai craqué il y a deux semaines.

Au départ Gert m'a dit que le son allait se faire et qu'il fallait laisser au moins une 100aine de km avant de pouvoir juger le son. J'ai trouvé ça étonnant mais c'est pourtant bien réel.
Lorsque je suis ressorti de chez Carnewal, je trouvais que le son n'avait pas tellement changé. J'étais déçu. Ce n'est qu'en arrivant vers Paris que j'ai commencé à découvrir le changement.

Un son plus raque, plus présent surtout à bas régime et typiquement Porsche. Fini le son de turbine. Le tout sans aucune résonance, bref du plaisir, rien que de plaisir. Avec un beau démarrage à froid qui plus est.
Vraiment très satisfait.
---
Posted by Buco on PorscheForum.nl May 2012 :

Zo, eindelijk thuis. Net gegeten en gedoucht en super genoten van een heerlijk dagje touren door Belgie naar Maarkedal waar Carnewal Europe is gevestigd. Gelukkig vandaag een feestdag in NL en een 'brugdag' in Belgie, dus op de wegen relatief rustig. Vanuit Bergen op Zoom een ritje van 130 km enkele reis. Was er ruim op tijd en Gert kwam al meteen enthousiast aanlopen. Ontzettend vriendelijke en gastvrije kerel die honderuit praat over zijn grote passie. Even zijn mooie stulpje, zeg maar gerust stulp, bewonderd. Hij woont er echt heel erg mooi afgelegen in het heuvelachtig gebied, waar je zo'n bedrijf niet bepaald verwacht.

Daarna wees Gert mij de 'guest-room' zodat hij ongestoord aan de auto kon werken. Voorzien van alle gemakken om eventueel klanten te laten overnachten, inclusief TV en wireless internet. Als ik dat geweten had...... Na 2 uurtjes stipt, zoals tevoren was beloofd, kwam het sein dat de auto weer klaar stond. netjes betaald en afscheid genomen en toen het moment suprème. Hoe klinkt de auto nu als ik zodadelijk de sleutel omdraai, want had hem nog niet kunnen horen.

Had me er maar niet al TE veel van voorgesteld, maar man wat...een...surprise Ik merkte dat ik meteen een big-smile kreeg die niet meer weg ging. Daarna aan de terugreis begonnen die veel te kort was. De auto klinkt nu stationair lekker rauw en zwaar, in het middengebied lekker aanwezig en vol open ietsje harder dan standaard. Op de snelweg echt prima te doen, had geen hoofdpijn na de rit (dat was bij de STi soms wel anders). Hij heeft nu werkelijk een schitterend geluid wat best goed hoorbaar is en hier in Bergen op Zoom alle nekkies doet omdraaien als ik een straat in rij . Ook bij gas terug zo'n heerlijk rauw gorgelend geluid en soms een plof uit de uitlaat. Kon maar moeilijk uit de auto komen, behoorlijk verslavend. Ben dus super tevreden en spijt dat ik het vorig jaar niet heb laten doen. (heb toen de afspraak tot 2x toe moeten afzeggen). Een echte aanrader voor de twijfelaar dus.
---
Posted by Mike (idivemike) on Planet9.com May 2012 :
I'm going to save myself some typing and use someone else's review:

"1. I wish I had done this mod sooner.
2. The exhaust truly transforms the car and the driving experience.
3. Still no perceived drone. Also, no buzzing or rattling of cabin trim as noted in some other A/M exhaust applications.
4. If you are on the fence, I would not hesitate in pulling the trigger for this mod."

I agree 100%!

My Background for my findings. I had an AWE exhaust and it was great! I felt an instant boost in power and the sound was awesome! A bit too awesome actually. I felt self conscious coming home at night, it was loud and I live on a hill. The drone bugged me. It wasn't horrible but I knew it was there. Actually, none of my passengers ever seemed to notice it.
Then finally my mechanic told me it was going to be too loud at WOT during my local auto-x and that was too many compromises for me.

So I went with the Carnewal GT mod when I found out I had a business trip to Seattle. I took my exhaust in a box as a checked bag and that took care of the shipping expense.

So, based on that I can say:
It's louder than stock but quieter than my AWE.
NO DRONE at all.
The performance gain is not as obvious as it was with the AWE. I feel like it has more mid-range oomph than the AWE but not the top end.
With my AWE I had significantly lower mileage.

I'm running mine with the Y-pipe that came with my AWE and I'm VERY happy.

IF I didn't live in such a tightly packed development on a hill and didn't have to deal with noise restrictions at my local auto-x I would have been happy to keep the AWE. Since those conditions exist I am VERY happy with my Carnewal GT exhaust. If you want an improvement over stock but don't want to sacrifice the civility of your Cayman I think this is the best way to go, especially considering the cost.
---
Reported by Chris from the UK June 2012 :

I've been able to experience the Carnewal GT Exhaust properly.
I really like it on the open road, with a great growl turning into a howl / wail when accelerating hard and it sounds amazingly powerful when going through a tunnel! It's also very civilised when cruising at a constant speed, unlike the official PSE I had on a 997S a few years ago, which droned terribly at motorway speeds.

I also really like the pops and burbling on shifting down or when lifting off the accelerator. It's hard to say for sure, but the throttle seems a bit more responsive too, which is great, and it's clearly added a little more power too.

The exhaust has proved a bit louder than I expected at low speeds (particularly noticeable in underground / multi-level car parks) and when first pulling away, but I'm getting to like it more and more. It's just taken me a little while to get used to the significant overall change in volume and tone compared to the stock exhaust, which in comparison was barely noticeable most of the time.

Overall, I am very pleased and want to thank you and your wife again for your excellent hospitality in Belgium, for the excellent value you provide and for your first-class customer service - before, during and after our visit. I'd definitely recommend others to consider coming over to your workshop and staying at your guest house, which is a good base for touring too, rather than simply having the exhaust shipped over.
---
Reported by Peter R. NL June 2012 :
Was een meer dan plezante rit terug naar Nederland!
Geluid is fantastisch, zeker in de lagere toeren en de motor heeft duidelijk meer power! De gewone stand is nu vergelijkbaar met de oude sportstand, de sportstand doet er nu nog een flinke schep bovenop!
Hartstikke bedankt de leukste 500 euro die ik ooit aan Porsche heb uitgegeven!
---
Posted by slakster / UK on Planet9.com July 2012 :

I had my Carnewal GT exhaust shipped over from Gert to the UK and fitted recently, can't recommend the kit enough, its got a great rumble on tickover and roars when you give it some too!
The car sounds like what a Porsche should do
I've not experienced any drone and its the best enhancement i can think of for the cash too.

Gert has been fantastic in helping to advise how to fit these myself and throughout the entire process and many emails back and forth he has always kept me fully up to date on my order!

Get one ordered today !
---
Posted by ET19 on Planet9.com December 2012 :

As one of the original customer /converts in the UK and having previously tried a number (5) of after market exhausts, I settled on the combination of a BC Velocity Dream 1 and Carnewal and IMO it's simply the "best"!
---
Posted by DMZ on fortyacresofyellow Feb 2013 :

There's a curious thing about Boxsters and that is that the car sounds better with the roof up than down because when it's up you can hear the engine. This obviously had to be rectified.

So much googling and YouTubing ensued and there are of course many options like Tubi, Capistro, Milltek, ... If you're really into this sort of thing you can watch this YouTube clip that compares most of them: http://www.youtube.com/watch?v=15ezNoqPU0g

What I've tended to find is that YouTube doesn't really capture exhaust sounds very well. In fact, I tried to record my own the other day and it sounded complete pants in comparison to the real thing. So I started looking at people's comments on forums instead and this thing called Carnewal GT Exhaust got a lot of good reports.

Carnewal is a Belgian outfit that modifies existing Porsche exhausts. They ship you a modified exhaust and you ship yours back, basically. There's probably some philosophical reason why having a Belgian exhaust fitted to a German car is a bad thing, but seeing as my German car was made in Finland I think all bets are off on the purity of the vehicle.

I bit the bullet and got a GT Exhaust shipped over and fitted.

So this is the YouTube clip that you want to look at: http://www.youtube.com/watch?v=2lwIG4GDoVQ. Just the crackle at idle is very cool.

I took it out roof down with the new exhaust last Friday and took it for a spin up the mountains. The sound is pretty damned good, particularly when it bounces off walls. This is how Porsche should have made it. A nice thing about it is that it's not particularly noticeable if you're just cruising around but if you put the throttle down, it wails like a good thing.
---
Reported by Mark J. UK Feb 2013 :

I want to thank you for an amazing product, I think I have the best sounding Boxster in the country now : GT exhaust/ 200 cell cats & RS60 tailpipes.
It doesn't sound too loud but is slightly deeper & more powerful sounding, almost as if the engine has increased in size!!
The throttle response now seems much quicker - I have Sport Chrono but now it feels like it's in Sport mode even without pressing the button - there is a definate power increase that's really noticeable even from low revs!! I couldn't be happier Gert as you've probably gathered!
---
Posted by Tofke 72 on Porscheforum.nl March 2013 :

Na lang aarzelen en veel wikken en wegen gisteren uiteindelijk een upgrade van mijn originele uitlaat laten doen bij (Gert) Carnewal te Schorisse (Maarkedal) BE.
Mijn boxster 2.7 klonk al redelijk ok op top-end maar stationair en onder de 4000 toeren werd ik er niet koud of warm van...

Met de upgrade naar een GT-exhaust kan ik maar 1 ding zeggen: prachtig!!!

Eindelijk het typische (luchtgekoelde) boxer geluid en porsche-waardig!
Vooral ook stationair en onderin nu het geluid waar ik van droomde, diep, geleidelijk opbouwend maar nooit te luidruchtig en op de snelweg zeker niet te vermoeiend...
Een echte aanrader, zeker gezien de prijs, en voor de keuring nog steeds de originele uitlaat!

Bedankt Gert, ook voor de leuke ontvangst, met koffie, koekjes etc.
Let the summer begin...
---
Posted by Deepblue on Pistonheads March 2013 :

Cayman Carnewal Exhaust - PistonHeads
Just thought I'd post a quick review of the 'GT' Exhaust from Carnewal in Belgium.
As I thought there was a lot more potential from my Cayman's exhaust I did some research on this and other forums. The reviews for Gert Carnewal's work made the decision easier. I contacted Gert, who responded to all my queries and shipped the exhaust and Black double exhaust tip (well it would be rude not to!)
I got George McMillan at McMillan Porsche to fit it and do a minor service at the same time (well respected mechanic).
I picked the car up and was expecting some subtle changes to the note.
What I wasn't expecting was a transformation into a GT3 soundtrack! Unbelievable. That's all I can say. I drove home with the windows down, and smiled the whole way. My girlfriend had left after dropping me off and I soon overtook her. She couldn't believe the sound when I passed her, deliberately at 5000RPM - after a quick food stop I gave in to her demands and let her drive the rest of the journey home.
Cracking exhaust, no resonance, no tiresome drone at motorway cruising, just an awesome supercar soundtrack. I'm now in search of walled sections of B roads just to accentuate that amazing howl!
---
Posted by RDN1980 on Pistonheads May 2013 :

I have had my Carnewal GT exhaust on my Cayman S for 1 week now and I can definitely recommend the upgrade. I was driving across to Berlin from Nottinghamshire so decided to call in to get it fitted on the way. Gert was extremely helpful and friendly and showed my round his house to a nice waiting area where I was supplied with ample refreshments.
It took him about 2 hours to fit and even when he took the car for a quick shakedown I could hear the improvement. There is a lovely howl between 2-3k rpm then it comes back again between 6-7k rpm. The pops and bang on the over run are fantastic, it feels like a mini GT3. I am also luck in that i have a couple of 1 mile tunnels to go through on the way to work...
---
Reported by James from NE UK May 2013 :

Since purchasing my 987S it was always my plan to upgrade the exhaust system to something a little more racy. The stock system is awful and doesn't do the car justice so the search was on to see which one will suit the characteristics of the car best.

I looked, You Tubed and read reviews of a vast amount of systems from Miltek, Tubi, Fabspeed....you name it researched into it. Then Gert came on my radar with his GT System. Gert is regarded as somewhat of an exhaust legend on the Porsche forums with many making the trip over to Belgium every year to get one fitted.

My main concern with an aftermarket system is the drone. Using the car daily it has to offer a certain amount of comfort when I want to relax but sound like a banshee when I want to get fruity! The GT System sounded ideal as it uses the original exhaust as a base whilst Gert sprinkles some magic on the internals to give it a GT3 esq sound in my little Boxster S.

Gert offers the exhaust on an exchange system but I fancied a drive over to Belgium to have him fit it personally. £60 and an overnight ferry trip later I was in Belgium. Arrived early morn to be met my Gert, shown around his workshop and welcomed into his guesthouse for the 2 hours it'll take him to fit.

After having a quick bite to eat and watching some TV I heard a roar from down below...It must be ready :-)

Initial impressions were great. A much more purposeful tone on start up, louder mid range bark will a very racy GT3/Ferrari sound when heading towards the red.

Gert suggested that it'll bed it and settle over the next few thousand miles and now after 2k is sounds perfect. Very nice rumble and bark on start up with a very purposeful tone throughout the rev range. When pushing on it sounds awesome with a nice burble and occasional pop on the over run with no added drone. With an added benefit of a sharper throttle and a bit more mid range punch, all for less than £500!

Great service throughout and a fantastic system.
---
Posted by Mini Turbo on Pistonheads May 2013 :

Just got back from having Gert fit a carnewal GT exhaust with black cayman R tailpipes to my car & I can't explain how happy I am. It is fantastic & I could not recommend it or avert highly enough. I did get carried away with the spending a bit but I don't regret it for a second
---
Posted by Jakub on Pistonheads May 2013 :

Another happy customer here.
Gert done his magic on my Cayman yesterday (GT exhaust) and it is brilliant.
Dartford tunnel in 2nd gear – EPIC!
And the restaurant close to Gert's place is really good.
---
Posted by Morfyne on boxster-cayman.com June 2013 :

De retour de Belgique hier, Gert a procédé à la modif GT exhaust.
Ca change !
Durée: 1h30, tarif 510€ avec les pièces à changer.
Gert est très sympa et son atelier dédié à Porsche est extra.
Premières impressions : il n' y a aucune résonance dans l'habitacle et sur autoroute aucun soucis à vitesse stabilisée.
Les accélérations sont enfin lyriques et les passages dans les tunnels impressionnants. En rentrant sur le périph à Paris, j'ai fais une accélération de 2000 à 4500 tours j'avais l'impression que tout le monde me regardait !
Perso je suis très content de moi choix, c'est ce que je recherchais, une bonne combinaison entre la discrétion quand c'est nécessaire et un son plus violent mais rauque et maitrisé.
De mémoire, comparé au PSE de ma 1ère cayman, je pense que ce n'est pas très éloigné, avec peut être quelques décibels supplémentaire pour le GT exhaust.
---
Article from PistonHeads July 2013 :

http://www.pistonheads.com/news/default.asp?storyId=28005
---
Reported by Thomas in Norway July 2013 :

2, 5 hours and the best result ever!
I had a friend sit on his veranda as i drove by at max throttle in 2nd going into 3rd, his response was just as mine "finally a proper sound, now it sounds better than it looks, sounds like a race car!!! "

I love the way it softly pops on the down shift when I break on the gears and the roar past 3000 rpm on the way up again, pure fun when you want it and no noise problem when cruising on normal revs, just perfect!

Looking forward to going for a long drive with windows down and radio off tomorrow :-)
---
Reported by Wayne / UK August 2013 :

I just thought I'd drop you a quick note to say I'm massively impressed with the exhaust, it sounds almost maniacal when you're pressing on and in enclosed spaces, but it's still completely unobtrusive when just cruising about. It's perfect. It has put a broad smile on the face of the friends I have taken out in it!
---
Reported by A.J.G/UK; February 2014 :

I am loving the sound of the new exhaust. I think the best way to describe the performance change is the car seems more "eager". I hit 60mph before I realise hypnotised the sound! It sounds like it should always have done.
---
Reported by James in Ireland, March 2014 :

I have taken the car a quick ten mile run around some back roads and it sounds great already. In fact it sounded good the moment I first fired it in the workshop. Very like the hollow growl from one of the local guys 997 GT3 4.0, so pleased and just what I wanted. Can't wait to get a few more miles on the clock when the cars officially goes back on the road in April. Thanks again for all the advice which gave me the confidence to do the job myself. Also if you do get any enquiries from Irish people wanting to hear what it sounds like before purchasing, feel free to point them my way for a listen and a recommendation.
---
Posted on PFF.de by Mike in Germany, April 2014 :

Kurzes Update: Habe heute den "GT Exhaust" von Gert Carnewal aus Belgien verbaut und muss sagen: Wow - noch besser als erwartet. Wer keinen Klappenauspuff verbaut hat/will, für den ist es eine echte (und absolut "den Preis werte")Alternative. Klingt ähnlich wie die Klappenanlage nur "bassiger" und ist (nach meinem strengen Empfinden ;)) dröhnfrei!! Absolute Empfehlung!!
---
Posted on Facebook by Philippe, April 2014 :

Merci des services rendus, un accueil parfait, guest lounge, café, petits chocolats, gourmandises, tout à dispo dans ce qu'on peut appeller un très bel appartement pour attendre la préparation. Au départ déjà un joli son, et en quittant l'autoroute, via les petites routes le son s'est en effet amplifié, bref, maintenant au moins j'entend le moteur et j'ai même un meilleur son que ce que j'avais dans ma précédente 996 Targa, je ferai une video avant/après
---
Reported by Phlissy , April 2014 :

The exhaust is perfect. There's very little difference over the stock exhaust when at cruising speeds, no drone at all. Literally none. But as soon as you press on the sound is just fantastic! A really distinctive Porsche flat-6 howl that's definitely loud but not at all offensive. It sounds deep and angry when pulling hard from low revs, and pops and burbles just a little bit when you back off again.
---
Posted by Philippe in France, April 2014 :

Ça y est!!!!

De retour de Belgique ce soir après un petit périple qui m'a d'abord amené (en mode son d'origine...) chez Gert Carnewal puis les deux jours suivants (en mode son libéré ) de Bruxelles à Bruges en passant par Gent.
La Belgique est vraiment un très beau pays!
Mais revenons au sujet: l'échappement.
You know what? I'm happy...
Tout a déjà été dit sur cette prépa. Mais bon, c'est tellement bien que ça vaut le coup de redire!...
C'est fabuleux, le Boxster est transfiguré, avec maintenant un son digne d'une Porsche.
Et le pied c'est que sur autoroute aux allures légale à 130 km/h à environ 3000 tr/min il n'y a aucune résonance parasite, on se croirait avec l'échappement d'origine. Par contre en accélération et au démarrage, ça change tout. C'est celle là: http://www.carnewal.com/products/P87/p87012/Sport-Exhaust-Tip
Gert à mis juste une heure pour tout installer, juste le temps d'apprécier la bière qu'il m'a généreusement offerte. C'est un vrai pro et passionné.

---
Rapport van Jan uit Nederland, Mei 2014 :
Na diverse andere uitlaten te hebben overwogen (van "custom made" bij uitlaatbedrijven tot aan de bekende aftermarket merken) heb ik op basis van de bekende you tube filmpjes en (vooral) de positieve referenties gekozen voor een Carnewal GT uitlaat. Dus op een zaterdag van Noord Nederland naar het landelijke Maarkedal in Belgie gereden.
Na uiterst vriendelijk door Gert in zijn zeer ruime mooie werkplaats te zijn ontvangen was het een uurtje of 2 wachten in het gastverblijf voorzien van koffie en "wat erbij"..
Na de nodige uitleg (Gert heeft maar liefst een half jaar ontwikkeltijd in het Cayman systeem zitten!) en nog even snuffelen in de shop met allerlei Porsche accessoires (heb de schade beperkt kunnen houden tot een sleutelhanger) ben ik weggereden. Volgens Gert moest het systeem eerst nog een beetje los komen en zou ik het verschil bij Antwerpen echt merken. En jawel, de Kennedy tunnel gaf al een eerste voorproefje met het raam open.
Vele medeweggebruikers is het zeker niet ontgaan want dit was het echte ietwat rauwe, zware en droge Boxergeluid! Klinkt gelukkig niet zoals met veel systemen als een typische auto met een open systeem...
En daarna is het alleen maar beter geworden!.Bij constante snelheden is de auto rustig en er geen verschil; op de cruise control bijna dezelfde geluidsniveaus en geen gedreun (!).
Dit was wat ik wou, geluid op afroep. Bij accelereren wordt het een andere auto; een hele dikke boxer sound, compleet met nageroffel en gepruttel bij gas los. Raampje open en tunnel verplciht bij iedere rit;-) Ook het idee dat het ietsje beter aan het gas hangt, vooral laag in toeren.Kortom, geen spijt van mijn aankoop en dik tevreden, een aanrader!

---
Posted by Mike in Australia, July 2014 :

The Carnewal exhaust is pure aural pleasure.
Totally addictive.
I can't believe I haven't gotten a ticket or warning yet for being yobbish.
The tunnels in Brisbane and inner city bypass are pure fun. It really gets peoples attention.. male and female alike.
I get thumbs up from lots of different people, different ages and gender (there's only 2 of them isn't there so...)
I've had people at the lights pull up and comment on the car.. even had someone taking photos from their car while stopped at the lights.

Each to their own I guess..

---
Posted by Fred in France, January 2015 :

voila retour de chez Gert, accueil et gentillesse au rendez vous, je ne regrette pas mes 1297 Km pour 2 raisons, la première j'ai souvent l'impression que tout n'est pas idéal en France mais s'il y a une chose que nos amis les belges peuvent nous envier c'est notre réseau routier, la deuxième c'est l'échappement Carnewal GT, le rapport rendu/prix de revient (essence, péage, dodo, glouglou) est toujours nettement inferieur à tout ce qui est proposé chez les distributeurs.
ma première impression est lorsque j'entends la voiture démarré dans l'atelier, puis sortir de la propriété et entendre la seconde vitesse s'enclenché, là je me crois tout droit dans un paddock avec une voiture de circuit..... en fait je suis comme un gamin à regarder à la fenêtre ma voiture partir.... le bruit est à la hauteur de mes espoirs!
On échange avec Gert, notamment sur le temps qu'il faut pour que le bruit soit définitif : 100 km; je lui touche 2 mots de notre forum en disant que c'est grâce à ce dernier que j'ai eu l'info sur ses prépas et lui de me répondre qu'il est très satisfait car c'est sa meilleure pub, et il le vaut bien! comme vous dites Gert président!!! il est temps de se dire au revoir et moi de le remercier!
Voila je monte dans ma voiture, je démarre, enfin une voiture qui s'exprime, au ralenti bruit beaucoup plus soutenu pas de résonnance pas non plus une cacophonie, juste ce qu'il faut. Passage de la première, passé les 2000 tours le bruit s'amplifie, à 3000 commence a chanter et hurle passé les 4000.
A la desaccélération léger petatradage dès que l'on passe en dessous des 2500 tours, agréable et pas du tout casse bonbon. La partie intéressante c'est qu'à vitesse stabilisé 130 KMh, on est à environ 3000 tours bruit sourd, présent mais pas du tout gênant, on tient une discussion ou au téléphone sans être obligé de hausser la voix. Je peux rassurer ceux qui on peur il n'y a aucune résonnance, aucun bruit parasite (j'ai connu ça avec un pot américain, à 2200 tours il y avait une fréquence de son qui te faisais mal au tympan, au final obligé de l'enlever c'était insupportable)
Pour conclure, j'ai parcouru 650 KM pour rentré et tout juste une trentaine de Km de national et de départementale : le son à l'accélération est digne d'une voiture de circuit dés 3000 tours et jusqu'à 6200, à 3000 tours stabilisé on est dans la voiture de papa et maman tout tranquillou à se parler et écouter la musqiue, à la desacceleration en dessous de 2500 tours petite pétarade (j'adore). Il n'y a pas de puissance en plus, mais je crois qu'il y a une accélération plus franche ainsi qu'une reprise, ça doit etre assez logique d'ailleurs car les gaz sortent plus vite! Pas de consommation d' essence supérieure ni inferieure. Merci à vous de m'avoir inciter à faire ce choix c'est du bonheur, @ au suivant!

---
Reported by Simon from the UK, April 2016 :

Four months ago I bought a Carnewal GT exhaust for my 987 Boxster 2.7. I couldn't be happier with the exhaust or the purchase process.
I found dealing with Gert a pleasure. The whole process was very well-organised, and Gert and his wife couldn't be friendlier.
I was going to get the exhaust shipped and fitted in UK. In the end I drove to the Carnewal workshop in Belgium instead. I'm glad I did. From London it was an easy if long-ish day trip: £60 on Le Shuttle plus 200 miles of fuel – no more than the shipping costs, and it was over and done with in a day.
The exhaust itself I really like, of course for the sound but also for its relative subtlety.
With the standard tailpipe it is invisible.
I haven't heard a full sports system on a Boxster to compare, but the GT is not as bluntly loud as various sports motorbike exhausts I've had before. Definitely louder than standard, it also releases a lot of tone, with a deeper woofle at low revs and much more bite from midrange upwards. Sounds excellent when you gun it in tunnels and cuttings, especially with the roof down.
I'd agree it doesn't drone. And on long motorway runs with moderate throttle, it's not wearingly loud in the cabin. It's also quite possible to tiptoe past neighbours and Police without drawing attention, which has proved useful.
Performance and fuel consumption have been unaffected.
In summary: I'd fully recommend. All Boxsters should have been made this way to start with!

---
Reported by Davey, May 2016 :

I have just had a Carnewal gt exhaust fitted this week, well impressed. Value for money there is nothing to touch it.
I was disapointed with the standard noise from the 987, went for my first real drive since having it fitted yesterday.I came back like a school boy with a big daft smile on my face. I would post a sound clip but they dont do it justice. I order it with Gert and it arrived 2 days later by courier, the guys at Revolution(top guys) fitted it combined with a service. The old back boxes are then returned to Carnewal on an exchange basis. The exhaust start up has a nice burble , not too in your face. When you open the taps the boxster noise sounds how it should!!
I would definitely recommend this exhaust.
---
Posted by Ivan in Singapore, July 2016:

I wanted to let you know that I received the GT exhaust yesterday and got it installed first thing in the morning today.
I'm using the GT exhaust in combination with a Dream1 Y-pipe. What an excellent combination! The car sounds as civil as the stock factory exhaust during normal city driving and highway cruising. But mash the throttle above 4k towards redline, and I get that nice Porsche growl!
I'm sure the exhaust will sound better once I have put more miles on it. But for now, this is exactly what I hoped the GT exhaust would do for my car. I was previously using a Tubi, which sounded amazing like an exotic Italian supercar at high revs. But the drone was hard to tolerate for daily driving, and ultimately it did not give me that Porsche sound.
Great job with the GT! Fantastic product, not to mention the awesome service you have given me as a customer. Impressive!
Now I'm thinking of pairing some headers with high flow cats to go with the GT exhaust. That should be interesting ;)
---
Posted by Uwe on PFF, July 2016:

Heute habe ich mir bei Gert Carnewal meinen Puff gegen den Carnewal GT-Puff tauschen lassen.
gUt, war eine stressige Reise, 500 km hin und 500 km zurück, und das nur wegen einem Puff, meine Frau hat nur den Kopf geschüttelt und mir den Vogel gezeigt :), aber es hat sich gelohnt.
dEr Sound ist echt überwältigend, sehr dezent bei niedrigen Drehzahlen, man kann gut mit 130 dahinschnurren, der Motor bleibt dezent im Hintergrund, wenn die Drehzahlen hochgehen, dann trompeten die Posaunen Jerichoszu einem Gewaltigen Crescendo das aber nie krawalig ist, sondern den Sound des 6 Zylinders unterstreicht.
Bei Tunnel Durchfahrten bekamen mein Ohrläppchen Besuch vom Mundwinkel, einfach genial.
Wenn ich da an mein Probefahrt mit dem 718 denke, da liegen Welten zwischen dem erbärmlichen gesprotzel und dem trompeten des 6 Zylinders.
Ich bin jedenfalls total zufrieden.
---
Reported by Andrew in Australia, March 2017:

I received your exhaust system within 5 days of you sending (Belgium to Australia). I had the system fitted 5 days later with a 'TT' style tip that I had made locally.
The sound of the system is excellent and NO DRONE. At idle there is a subtle burble, rev the engine and an exhilarating note fills the air, not too loud, not a high scream more a growl.
With driving the car you just want to hear the engine rev (this could lead to trouble with the law as breaking the speed limit is inevitable), the sound in the cabin is great, not disturbing but certainly enough to bring out the racing driver in you.
Gear changes are better as you can now hear what the engine is doing. Having completed the 160klm settling in period (ECU auto adjustment) the system has come on song, and is perfect.
I choose the Carnewal GT system after months of internet searching, listening, pricing, I beleive that I looked at every system available for the Cayman, the only system that I felt had NO DRONE, was an easy fit and had great reviews was the Carnewal GT (the youtube videos do not give an accurate sound, the exhaust definitely has a better overall tone, less crackly and a lower note).
Thank you for great service and a great product.

---
Posted by James_R/ UK on PistonHeads July 2017 :

Just picked mine up this afternoon.
All I can say is "WOW"
Not at all in my wildest dreams what I was expecting. I drove out the industrial estate thinking, nice burble on tick over...
Trundled out at low revs, just driving steady, all pretty civilised. Thought I expected it to be louder. A deeper exhaust note for sure, but not intrusive with the roof up.
I drove a mile or two, thinking, sounds nice, more vocal than standard. You don't have to be giving it so much boot to get a nice sound.
Then I pulled over and dropped the roof down. I took the scenic route home along the country roads thro some quiet built up little villages.
As soon as I put the roof down, (when you usually notice the standard setup is really quiet) this is when you can hear the magic.
On a firm prod of the throttle the exhaust barks and really makes a sound that demonstrates you've got a real sports car and some power under your foot. Every time I come off the throttle, it pops and crackles akin to the 981 videos you see on youtube when they're fitted with the PSE. Pops and crackles on demand every time you want them.
Like god coughing lol biglaugh I couldn't help but drive around literally laughing away to myself with a huge grin across my face.
Now warmed up the car was ready to stretch its legs and good god what a noise. Build the revs with some vigour and keeping your right foot planted right thro to the 7k limit, the car really does sound like a GT3, or a Ferrari at full chat. A high pitched howl - a crescendo of revs. Mesmerising - an absolute hoot. The noise demands and quite rightly gets the attention it deserves when pushing on. Pedestrians and other drivers alike. I'm yet to have a good drive out with the roof up, but initial impressions are that it has done what it was meant to do. Added volume and a race car like sound without the associated drone and boom of an aftermarket system. And of course it looks indistinguishable from the standard exhaust.
I'll add more when I've done my 50 miles with the roof up tomorrow.
---
Reported by Andrew from the UK, February 2018 :

best sounding Porsche exhaust I have ever heard.
The problem with many aftermarket exhausts is the drone.
It as transformed my car from looking sporty driving sporty I know sounds sporty. Even on startup is sound great
This is a wonderful product and I am super happy that I went with your exhaust thank you so much for the great product. Oh by the way the black Cayman R tips look absolutely awesome.

---
Reported by Stuart from the UK, June 2018 :

Just wanted to say a massive thank you for fitting your GT Exhaust and twin tail pipe on Saturday and also for your kind hospitality - your wife's jug of coffee along with snacks were just what we needed.
My son and I could not stop smiling all the way home as the beautiful music from the exhaust just got better and better as you rightly predicted.
We returned to Calais via Lille which was a much better journey than the via Ghent route and managed to catch an earlier shuttle than the one we booked so we were there and back within 12 hours of leaving home.
I would have no hesitation whatsoever in recommending your excellent service as the car has been transformed.
Your part exchange service and above all the engineering is a stroke of genius.

---
Reported by Ryan in the USA, Jan 2019 :
I got your exhaust and installed it. You're a genius, this is the perfect exhaust. I love it, just loud enough and really enjoying the high pitch scream past 4K rpm :-)
I ve read plenty of reviews before purchasing and I must say I agree with them all.
This is the way the 987s should have sounded like from the factory.

---